Looking for the perfect stage to take your event to new heights? Look no further than Daniel Lay Event Services for stage hire that will make your event in London, Kent, Surrey, or Sussex truly unforgettable. With a wide range of options, exceptional quality, and top-notch customer service, Daniel Lay Event Services is the ideal choice for individuals and businesses alike. Read on to discover the benefits and convenience of hiring a stage for your next event.
When it comes to planning an event, having a stage can add that extra touch of professionalism and excitement. Whether you're organizing a concert, a corporate conference, or a wedding reception, a stage provides a focal point for performances, presentations, and speeches. It creates a visually stunning backdrop that will impress your guests and elevate the overall atmosphere of your event.
At Daniel Lay Event Services, we understand that each event is unique, and that's why we offer a wide selection of stages to suit your specific needs. From small stages for intimate gatherings to large stages for grand productions, we have options to accommodate events of any size. Our stages come in various shapes, sizes, and configurations, ensuring that you find the perfect fit for your event space and theme.
Stage Clamps are available which allow each section of stage deck to be fixed together to prevent movement.
We stock 1ft high legs which give the stage an overall height of 30cm. Should you require a higher stage we may be able to source other sized legs with sufficient notice.
Stage skirts are also available which have velcro to attach onto the stage, this provides a neat and tidy finish.
Carpet is supplied pre-fitted to each stage panel in grey. We can also fully cover the stage with another coloured carpet and even offer solid stage surrounds as an alternative to fabric ones.
Individual Stage Hire Components
Day Hire Price: £40+VAT – Excludes Legs & Skirt
 Day Hire Price: £1.50+VAT
4 legs are required per stage panel
Day Hire Price: £1+VAT
2 clamps suggested in between panels
Day Hire Price: £5+VAT
Size: 2m Wide x 30cm High
Colour: Black
Solid Stage Skirt Hire – 2m x 30cm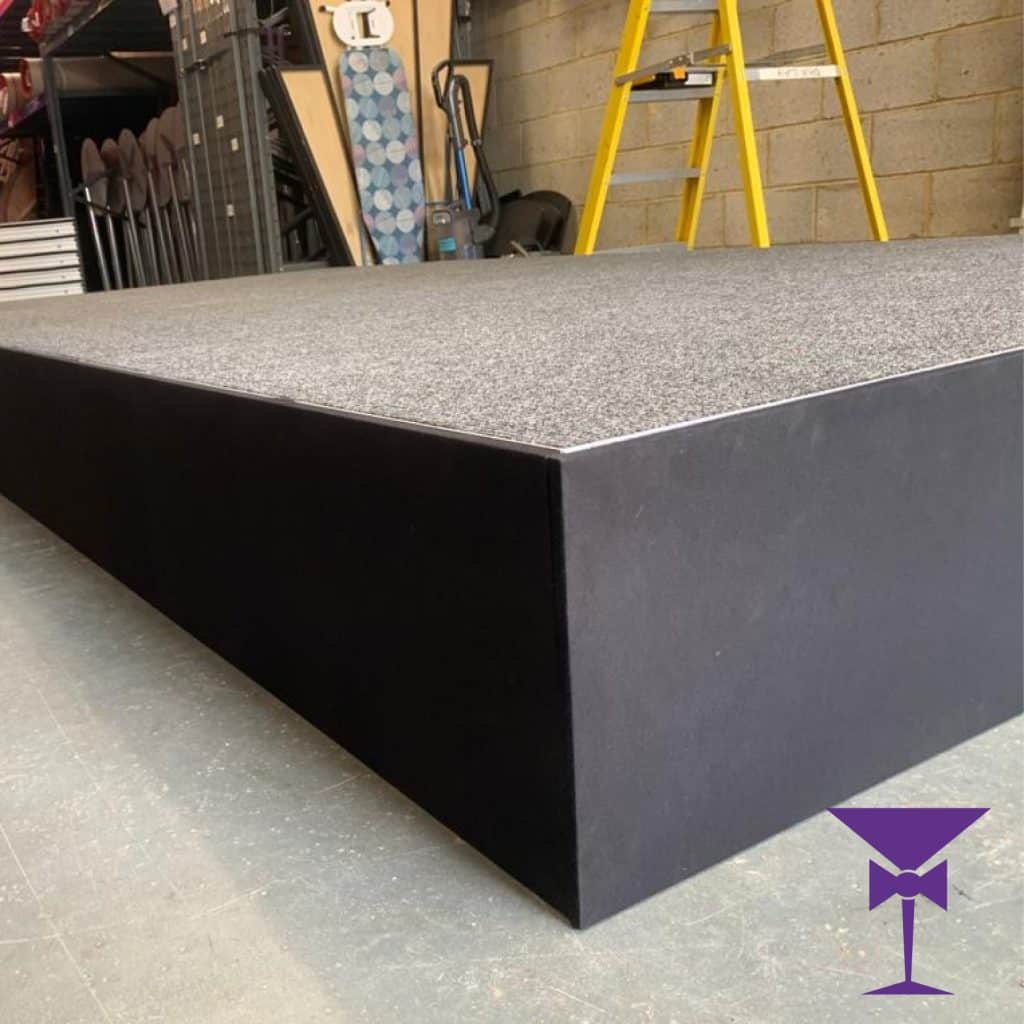 When you choose Daniel Lay Event Services for stage hire, you can expect exceptional quality. Our stages are made with the highest standards of craftsmanship and durability, ensuring a safe and sturdy platform for performers and presenters. We prioritise the comfort and safety of both the performers and the audience, so you can rest assured that your event will go smoothly and without a hitch.
Our team of professionals will handle the delivery, setup, and dismantling of the stage, taking the hassle out of the process for you. We understand that event planning can be stressful, and that's why we provide a seamless and stress-free experience from start to finish. You can focus on other aspects of your event knowing that the stage is in good hands with our experienced technicians.
So, if you're planning an event in London, Kent, Surrey, or Sussex and you're in need of a stage to make it truly memorable, look no further than Daniel Lay Event Services. With our wide selection of high-quality stages, exceptional service, and attention to detail, we are the perfect choice for all your stage hire needs. Elevate your event to the next level and leave a lasting impression on your guests with Daniel Lay Event Services. Contact us today to discuss your requirements and let us bring your vision to life.